Questions to Ask When Moving Into a Senior Living Community with a Pet
Moving into a senior living community with a pet is exciting and can sometimes be stressful. Learning the rules and policies different communities have on pets can be overwhelming, especially if you aren't sure what questions to ask.
Many senior living communities understand the benefits pets can have for their owners, and pet-friendly senior living communities are becoming more common. When you begin your search for a community, all it should take is a quick look at the communities website to find out if they are pet friendly. The next step is to take some time and ask questions about the pet policies the community has.
1. Are there any rules or restrictions to be aware of about types of pets?
Every community has its rules regarding pets, which can include types or breeds of pets you are allowed to have. Some communities may only accept animals such as dogs and cats. Every community will have a different policy, so it is important to find one that fits your needs the best.
2. Do you have a restriction on the number of pets per resident?
Communities will often restrict the number of pets a person can bring or adopt while living in the community to one or two.
3. Are there any restrictions on the age of a pet?
Many senior living communities will discourage or restrict younger pets like puppies or kittens, as they can be more destructive. Each community has a different set of rules and requirements in place that is important for you to know when choosing the community that works best for you.
4. Is proof of health or vaccination required?
A community may require vaccinations for the safety of all pets. Knowing all the requirements and having the paperwork ready upon moving in is important.
5. Do you require a pet deposit?
Expect to owe a pet deposit and maybe even a monthly pet fee. Be sure to ask about any additional costs you may incur because of your pet.
6. Are service animals excluded from certain rules?
Many communities will make exceptions to rules if you have a service animal. For example, if pets aren't generally allowed in the dining room, the community should make exceptions for service animals who must be with their owner at all times.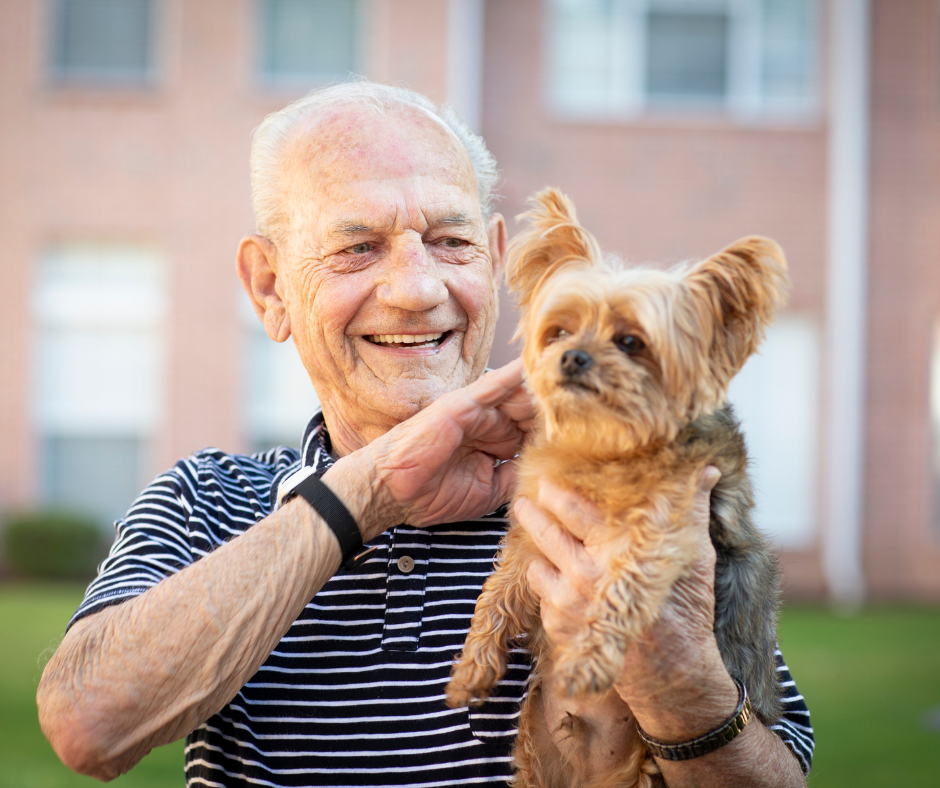 7. What happens when a resident can no longer take care of their pet?
There is always the possibility that there will come a time when it becomes harder to care for your pet. Learning if the community is willing to provide help in these situations or if they can work with you to arrange for services to be provided in these situations.
8. Are there any restrictions for dogs or cats going outside?
If you own an active dog, they will need to spend time outside to get exercise. Check if the community has a dog park or a fenced dog run. If you have a cat who is used to having the ability to come and go as they please, it is also a good idea to learn if it's okay for your cat to wander the halls of the community.
Finding a senior living community that fits your lifestyle and needs is important. Every Grace Management, Inc community is pet friendly and is excited to welcome you and your furry friend to your NEW home! Are you interested in learning more about Grace Management, Inc. communities? Check out the community page on our website.
It's not like home. It is home.